All News
> Trade Contractors Guide - Construction Act
Trade Contractors Guide - Construction Act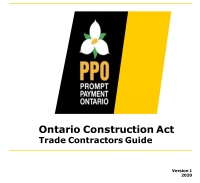 The purpose of this guide is to provide a reference to navigating your rights and responsibilities as per the Construction Act.
The Guide covers 4 general areas;
An overview of the transition timeline, rights to information and information you should look for in tender documents
Changes to the Lien Process
Prompt payment, including timelines, various scenarios of full/partial and non-payment, concept of proper invoice
The adjudication process, timelines, how it impacts lien periods, process, etc.
The guide concludes with information on expanded publication requirements, special cases under prompt payment, a listing of forms and where you can get them online as well as a 10 point check list that should pertain to each project you work on.
Attachments